Stefano de Peppo soon understood what his life was supposed to be about when he started as a boy soprano for the Children Chorus of Teatro alla Scala in Milan.
Years passed since his debut in English in London at Holland Park Theatre, singing Escamillo in Carmen. Since then, he has performed everywhere in a wide variety of characters. He was Figaro and Don Giovanni, Bartolo and Mustafà, Don Magnifico and the Sacristan. He sang in Italy, France, Spain, Israel, Mexico, England and Colombia.
And of course, in the United States. His voice sounded in dozens of theatres across the country. From the east to the west, from the north to the south. What next, then? A new challenge, teaching the values of the Recitar Cantando in the year of a pandemic.
Stefano, with the pandemic, acting online has become part of the "package" of every actress and actor. How was living this change in 2020? And how will it become part of the acting world in the future when we return to normal?
«I think that, with the arrival of this pandemic, we all have been caught by surprise. And in the world of the performative arts, somehow, we had to be exposed to the new habit of being actors online before than others. Everything had to become much smaller because usually, all the feelings that the stage performs express are bigger. Now we have to use this streaming. And our way of communicating what we feel had to become somewhat more contained. This aspect happens even if when the performances take place in an empty theatre or a small room. And I consider it as the main of the challenges that we have as performers.»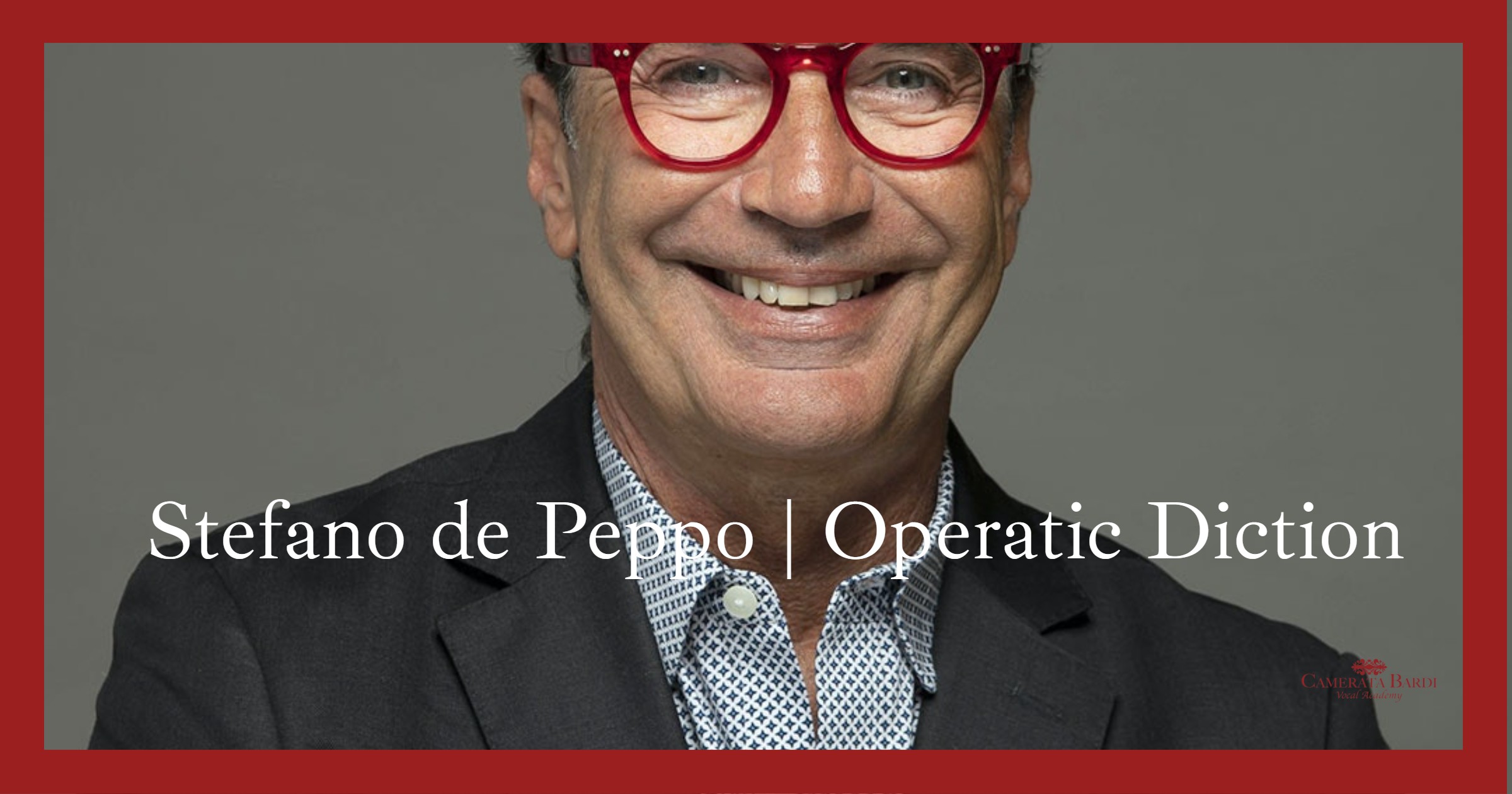 One of your tasks at the Vocal Academy is to work on Italian diction. What do you recommend to the new generations of Belcanto voices? How can they work on themselves to grasp the importance of operatic diction?
«When we train as singers, we have to focus on many things. First of all, the technique, which allows students to build the vocal instruments. This factor helps them to be able to perform those complicated operas. And then, of course, there are expression and diction. Being an Italian, I am definitely advantaged by this. But I recognize the challenge, you know. When I sing in another language, I face the same troubles that non-Italian singers have when singing in Italian. Of course, I think that trying to listen as much as possible to Italian, on TV or audio of any kind can help, not only how the diction goes, but also how the inflections work. It is something that I always suggest to any students. »
Recitar Cantando is one of the most valuable performing arts activities in the world. Most of it began in Italy. What are the difficulties in keeping this tradition alive? And what teachers like you can advise to those who are beginning their path now?
«Opera was born in Italy about 600 years ago, and the original name of it, we don't have to forget, was Melodramma, a combination of music and drama. In Opera, there is no music without drama. With drama, I mean the dramatic expression of the operas. So, Recitar Cantando, which is the Italian way of saying "Singing while Acting," has to be a must. It is a duty that we have as a performer. You can sing a beautiful line with beautiful purity of tone, but there is no drama if what you miss is the internal drama, that has to be expressed through the right inflections of diction, words, and phrasing. It has to come together. We have to be committed to finding this ability to move the audience through our singing, not only through our voices.»
Davide Mamone