Within the 256 singers on the ballot, the jury has chosen her. Soprano Alexandra Razskazoff won The 2020 Giovanni Consiglio International Competition, getting the Professional division prize.
Inspired by the figure of the late Italian tenor Giovanni Consiglio, considered as one of the most admired voices in the international operatic scene, the competition awarded three more prizes, the Camerata Bardi Vocal Academy, the Scholarship Division, and the TIVAA special prize.
But the jury recognized the Minnesotan soprano as the best singer in the competition. Acclaimed as a "richly faceted, slinky soprano," by the New York Times, Ms. Razskazoff is gaining recognition for her versatile and compelling performances on the operatic stage and in the concert hall.
Most recently, before the coronavirus pandemic started hitting the United States, Ms. Razskazoff appeared with Maryland Lyric Opera (MDLO) Institute in a concert of Grand opera scenes at the Strathmore Center in North Bethesda, Maryland. A few months later, The 2020 Giovanni Consiglio International Competition recognized her voice.
And for the future, as soon as theatres and concert halls will reopen, she hopes to perform in Europe again.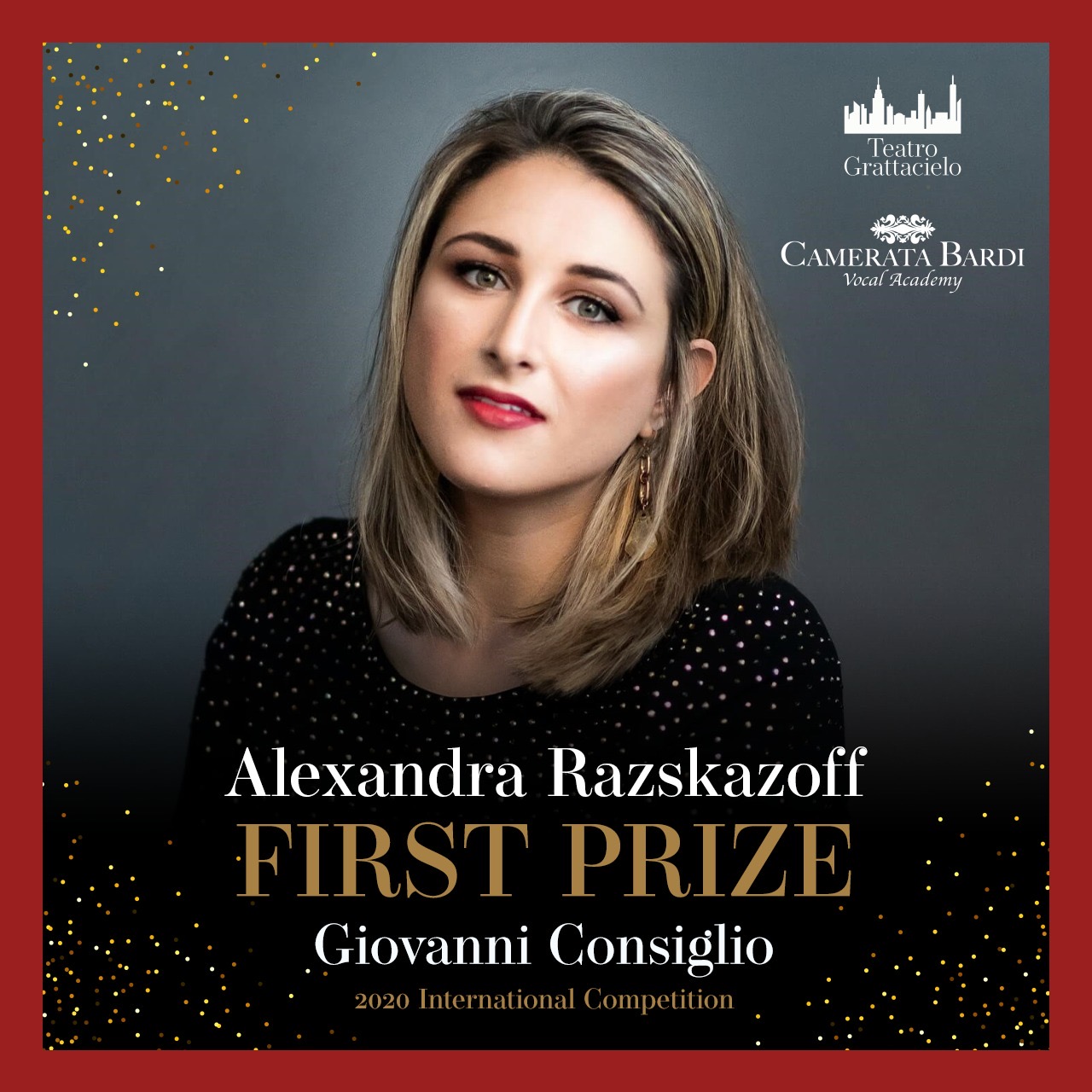 Alexandra, congratulations. Tell us more about your first years. When did you understand that music and Bel canto would have been at the center of your life? «I would say during high school when I began singing classical repertoire in church. I had many opportunities to sing solos which helped build my confidence in front of large audiences.»
You were born and raised in Minnesota. How was it for a young singer? «I began studying there with one of the most sought-after voice teachers, who was an 80-year-old trove of knowledge and wisdom. A few months later, I enrolled in the Minnesota Opera's Project Opera program for high schoolers. The program served as an introduction to the opera world, where the youth choir would sing large scale opera chorus numbers. After some time, I joined the Apprentice Program , which was a smaller ensemble group of singers.»
Is there a specific episode when you told yourself, Yes, this is what I want to do? «As an apprentice, I was invited to be a part of the chorus in Minnesota Opera's 2008 production of Dvořák's Rusalka. The company began sectional rehearsals, where I got to hear and sing in Czech for the very first time. I did not quite know how exciting this process would be until I arrived at the first full chorus rehearsal.»
What happened there? «I recall nearly bursting into tears at the sound of 50 some professional operatic voices in one small rehearsal room. At this point, I did not think this could have gotten any more exciting. The chorus for this production was as an offstage chorus. This way, I was able to have a behind the scenes look at the action backstage.»
And what do you recall of that moment? «The frenzy of costume changes, artists running to catch their entrances, and the drop-dead gorgeous mermaid costumes left me completely astonished. Weeks after the production ended, I had Dvořák's beautiful melodies still ringing in my head. I never forgot this riveting experience, which is when I knew Opera and Bel canto just HAD to be part of my life.»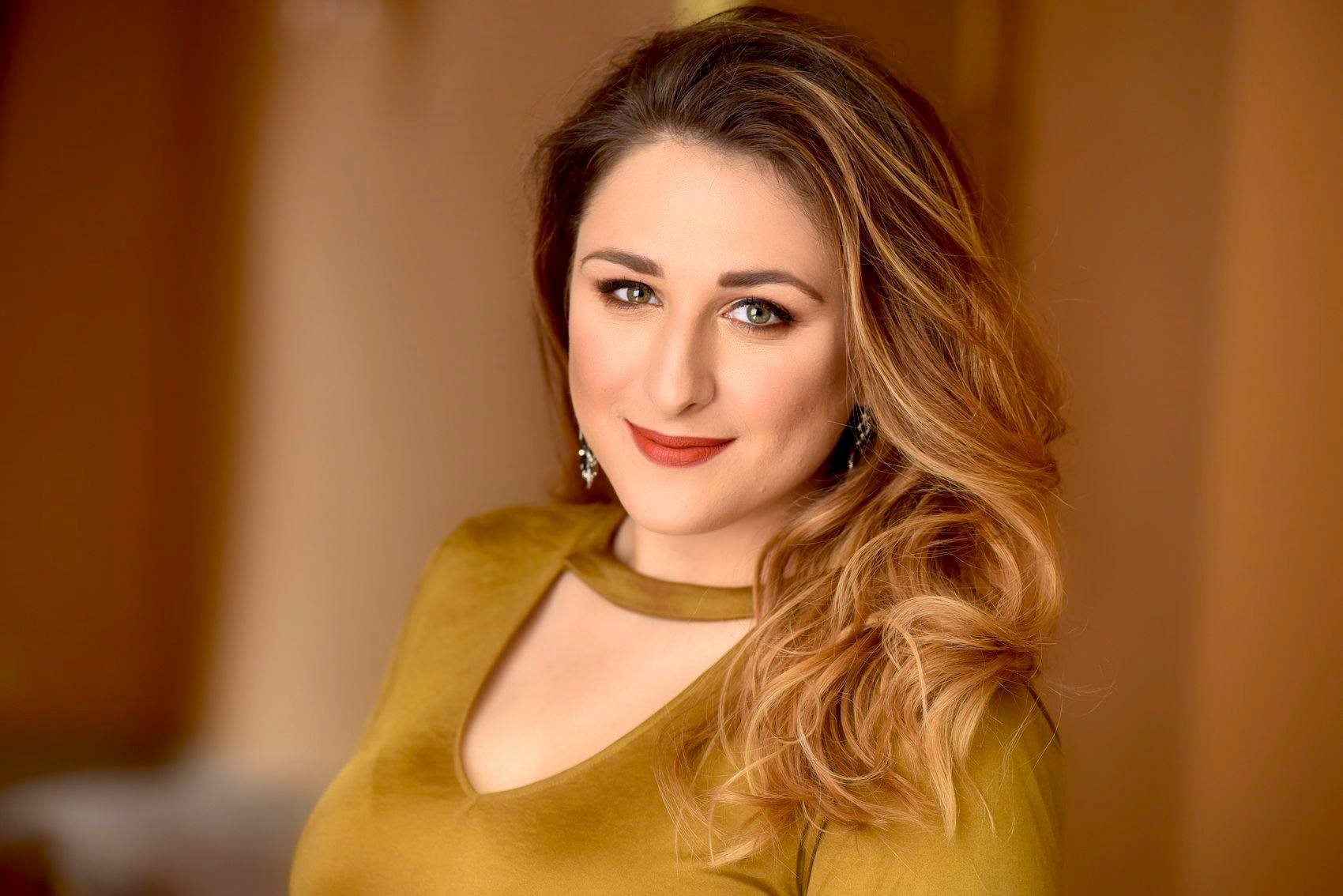 Opera and Bel canto are experiencing a crisis since before the pandemic has started. As a Soprano, what do you think we need to do better for the next generations to come? «I am a firm believer that the use of the strict vocal technique defines the art of bel canto singing. I received training from teachers and coaches whose entire technical vernacular was firmly based in this style. While this knowledge has provided a healthy yet challenging set of tools for me to use, I can implement it in any genre of music I sing.»
Would you suggest this approach for the future? «If more teachers familiarize themselves with this heavily regimented technique, I do not doubt that the tradition of opera and bel canto will thrive. I think we owe it to the next generation of singers to provide a technical and stylistic foundation in bel canto singing. We always need to provide links to the past to fuel and ensure a strong tradition of this art form for generations to come.»
Opera and pandemic. Every artist across the world struggled due to the coronavirus pandemic. Online shows replaced in-person exhibitions, and Zoom replaced the theatres. Is it possible to believe that an audience can enjoy the Opera through a screen in a permanent way? «Although I believe there is beauty to be found in Opera that is performed virtually, I do not think that it should become the norm after the pandemic - nothing beats live theater!»
How do you think the future is going to be for singers and conductors? «I believe if singers take the time to develop their technique and artistry during these unprecedented times, the business will be stronger than ever once we return. While no one is sure of the future, I am positively anticipating that we will be back in theaters as early as next year.»
You just won the 2020 Giovanni Consiglio Competition. Can you tell me a little bit more about this experience from your point of view? «This event was the first virtual competition I have taken part in, and I am pleased to say it did not lack any of the excitement of one in real life. The 2020 Giovanni Consiglio Competition was incredibly well planned and executed, especially for having been the competition's inaugural year. I particularly enjoyed the segments of interviews with the highly renowned guest jurors. I never knew I would learn so much from a competition, but it was very informative. Also, Stefanos Koroneos was a masterful host.»
How did you approach it? «I approached this competition like I would any other. There was lots of preparation and keeping in decent vocal shape between rounds. I was able to collaborate with the incredibly talented pianist William Woodard and recording studio engineer Daniel Mears.»
When did you decide to be part of it? How do you feel now, and what does this win represent for you? «I feel honored to have been chosen from such a small group of highly talented singers. I want to give a huge thank you to Teatro Grattacielo and the Camerata Bardi Vocal Academy for such a great experience!»
Next year, theatres and halls would slightly reopen across the world. What are your plans and projects for the end of 2020 and 2021? «At this moment, I am engaged to make my debut with the Mid-Atlantic Symphony on their December Holiday Concert. Once it's safe again, I also hope to make a trip to Europe to perform a full-fledged audition tour. In the meantime, I plan to learn as much repertoire as possible and keep challenging myself with every new aria and role I learn.»