Capucine Chiaudani realized that music would have been an essential part of her life in two Italian cities. Genoa, where she began her musical education, and Bologna, at the Conservatorio Martini. These two places launched her career across the country and around the world.
An opera singer and a voice teacher, Chiaudani started her international artistic path as a soprano, appearing as Despina in Così fan Tutte at the Concertgebouw in Amsterdam and the Opera Festival Alden Biesen in Belgium. Then, success arrived.
She was a prize-winner at competitions like Prima Scrittura at the Teatro Comunale Maggio Musicale Fiorentino in Florence, and the G. Verdi/A. Toscanini at the Teatro Regio in Parma. She appeared as Maria, in Maria de Buenos Aires by Astor Piazzolla, in Switzerland and sang Mimì (La Bohème) at Teatro Coccia in Novara and then at the Teatro Massimo Bellini in Catania under Donato Renzetti.
She also sang, among others, main roles as Donna Elvira, Fiordiligi, Tosca, Desdemona, Alice Ford in Falstaff, Nedda in Pagliacci, Leonora in Forza del destino, Medea, Fedra of Simon Mayr with World Premiere Recording for Oehms Classics. She has been guest Professor at prestigious institutions as University of the Arts Bern, Swiss Operastudio Biel, Netherlands Operastudio Amsterdam, Berlin Opera Academy, Lyric Operastudio Weimar, Opernakademie Schloss Henfenfeld, Mediterranean Opera Studio, M Institut for the Arts Washington and gives regularly Belcanto Masterclasses in presence and online. She coaches online singers all over the world and is Voice Professor at the Kalaidos University Zürich.
Her course "7 keys for Vocal Freedom for Athletes of the voice" was just released and is avaible on her webpage: www.capucinechiaudani.com
Her challenge now? To help the young generations of singers to make it through the pandemic, promoting the values of Belcanto.
So, Capucine, what can Belcanto teach to young generations of singers and the audience?
«It teaches the real artistry and tradition of true singing. It teaches the value of beautiful singing melted with the priority of communication. When you approach Belcanto, you have to think about yourself as a singing storyteller. In this context, the Belcanto technique should serve the music and the text.»
Which values and meanings can you find in that?
«I consider it as a way to pursue the tradition of the old maestri. By doing so, we have the chance to bring that beauty and those values to the world today. In this context, let me say this. My passion has always been to help singers free their voices to sing and swing.»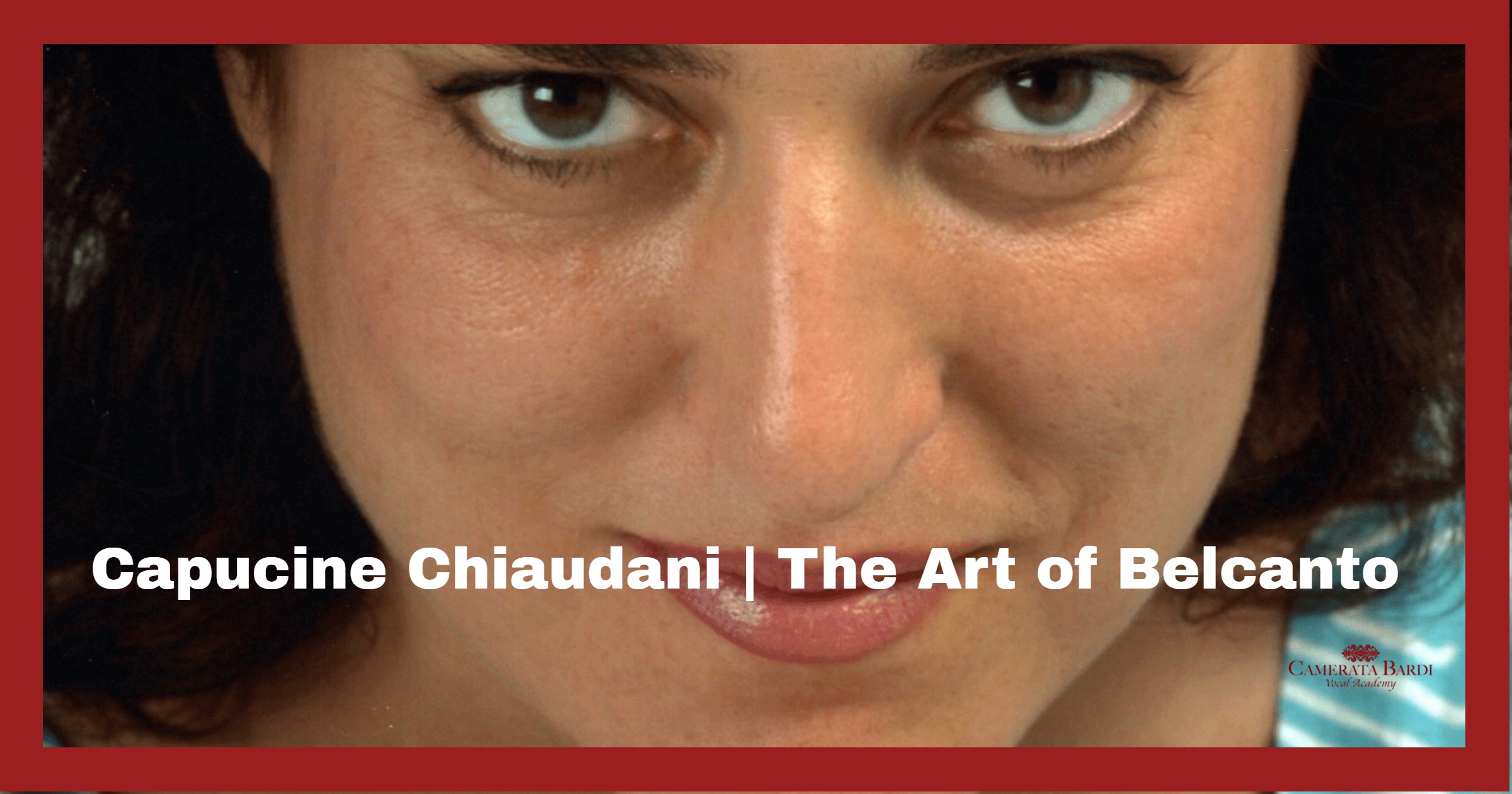 Which goals would you like to accomplish as a teacher a the Camerata Bardi's Vocal Academy?
«First of all, helping younger generations of singers to become the best version of themselves. I wish to contribute to creating a new generation of healthier singers, both mentally and physically, because an opera singer is, in fact, an Olympic sports athlete of the voice. In this context, I wish to bring light to what concerns vocal technique and hope, supporting them in finding the recognition they deserve. The young singers need to be more focused on their qualities than on their limits.»
Davide Mamone