Program Structure
Camerata Bardi International Academy's initiatives create a space where young artists can get a fully integrated experience of what it means to be on a professional stage in a fast-moving environment that can be intimidating to a young singer. This boutique program was designed for young singers who have completed their studies and are looking for opportunities to step into their professional lives.
The program is separated into two different stages:

Stage One - Lyric Laboratory
The program of Camerata Bardi International Academy is built around the study of operas, each with their own curriculum and faculty. Our International Faculty consists of elite industry professionals and world-renowned opera singers, to educate, discover, and promote young singers. Our selected participants will be working on all aspects of rules of operatic diction, dramatic interpretation, as well as style and repertoire. Additionally, our Industry Development Seminars will focus on valuable career insights such as self-marketing, selecting the right social media practices, networking, branding, self-filming,financial planning (yes! it is important!) and overall professional presentation in the new, digitally driven, fast paced world.
Please visit our FACULTY PAGE to find out more about our coaches and lecturers!

IN 2024 LESSONS AND COACHINGS WILL BE DONE ON-LINE AND IN-PERSON

Stage Two - Performance
Young Artists will prepare to perform a fully-staged production. In the 10-15 days leading up to performances, Artists will take part in staging, musical rehearsals, lectures and masterclasses led by stage directors and conductors with recognized expertise and experience in the operatic world. The culmination of stage two will be performances in theaters and festivals in Europe and the US.
​
"I've learned to have the courage to take a character to the next level and how to interact with everyone on stage."
Luna Seongeun Park, 2023
Our Partners:
TEATRO GRATTACIELO
CULTURAL AND CONFERENCE CENTER OF CRETE
PHOENICIA INTERNATIONAL FESTIVAL OF THE VOICE
RHODES INTERNATIONAL FESTIVAL
APOLLON THEATER, SYROS
HARRISON FRIENDS OF THE OPERA
ATHENS PHILHARMONIA
Almost all participants have been getting or, are scheduled to get paid performance opportunities in 2021-22-23-24 &2025 Seasons of Teatro Grattacielo and Harrison Friends of the Opera concerts and productions. Between 2021 and 2023 our partners have handed out a total of 46 contracts, and 2 participants received offers for fest contracts in Europe. It is our way to keep promoting you, giving you valuable performing experience and allowing you to get some of your tuition back by working with our dynamic partners. Contracts included: The 10 Faces of Maria Callas, Teatro Grattacielo's La Vestale at the Gerald Lynch Theater, Opera Columbus, Rossini Opera Festival , Teatro Massimo di Palermo and Light Opera of NJ.
LAST DAY FOR 2023 SUBMISSIONS: Friday, December 22nd, 2023
-------------------------------------------------------------------------------------------------------------
2024-25
G. Donizetti : Elisir d'amore (several dates and locations in Europe and Us)
EUROPE

April 18th, 19th, 20th & 21st 2024
Cultural and Conference Center of Crete, Heraklion, Greece

A new production by Camerata Bardi Vocal Academy and Teatro Grattacielo, in co-production with Conference and Cultural Center of Crete

CONDUCTOR: Myron Michailidis, conductor, General Music Director Erfurt Opera
DIRECTOR: Stefanos Koroneos, director, Artistic Director Teatro Grattacielo
SET DESIGNER: Elda Kladaki
COSTUMES DESIGNER: TBA
LIGHTING DESIGNER: TBA
ORCHESTRA: Athens Philharmonia, orchestra
Production period and masterclasses start on April 1st 2024in Heraklion, Crete.
USA

June 1st & 2nd 2024

The Flea Theater, NYC
CONDUCTOR: TO BE ANNOUNCED SOON
DIRECTOR: Stefanos Koroneos, director, Artistic Director Teatro Grattacielo
SET DESIGNER: TBA
COSTUME DESIGNER: TBA
LIGHTING DESIGNER: TBA
ORCHESTRA: The Teatro Grattacielo Orchestra
Production period and masterclasses start on May 23rd 2024in New York City, US.
N. Flagello: Beyond the Horrizon | World Premiere - in English
Opera in 3 Acts
Music by Nicolas Flagello
Libretto by Nicolas Flagello & Walter Simmons
Based upon the play of the same name by Eugene O'Neill
Beyond the Horizon is Nicolas Flagello's last opera written in a "Neo-Romantic" style, known as "Neo-Verismo". The opera was based on a play by Nobel laureate Eugene O'Neill (1888-1953), generally considered to be America's greatest playwright. Beyond the Horizon was O'Neill's first published play. Completed and produced in 1920, it was awarded the first of O'Neill's three Pulitzer Prizes.The play concerns two brothers: one, a practical man of the soil, devoted to maintaining the family farm; the other, poetic and something of a dreamer who longs to escape from the farm and explore the world. But their love for the same young woman leads them to betray their destinies, ultimately resulting in their tragic downfall.
OCTOBER 2024 -EXACT PERFORMANCE DATES TBA SOON
The Gerald Lynch Theater, NY
Rehearsals start October 2024 in NYC
Co-production with Teatro Grattacielo

CONDUCTOR: Christian Capocaccia
DIRECTOR: TBA
SET AND COSTUME DESIGNER: TBA
ORCHESTRA: Teatro Grattacielo Orchestra

-------------------------------------------------------------------------------------------------------
The Lyric Laboratory -Online
Sunday, March 17th - Saturday March 30th.
ELISIR D'AMORE & BEYOND THE HORRIZON
Our focus is developing you as a singing actor, giving you comfort and space to grow on stage, while fast-tracking your language, stage and marketing skills.
During the period of online training, each participant will be working with a mentor (3 hours), a marketing consultant (4 hours), an opera agent (4 hours), a social media expert (3 hours), an Italian or English diction coach (10 hours), a maker (3 hours), a financial advisor (2 hours). For the whole duration of the course lessons will be one-on-one or in masterclass format, online. In-person classes will be scheduled towards the end of the Laboratory, conditions-permitting.
This program does not focus on developing vocal technique from the ground-up. We accept Young Artists who, we feel, already have a strong vocal foundation and are in need of some fine-tuning.

The culmination of this program will be fully staged performances and in-person masterclasses of ELISIR D'AMORE and BEYOND THE HORIZON listed on our 2024-25 Season.
We are forming 6 complete casts and a cover cast for several European and US Festivals and locations (more to be announced soon) for Elisir d'amore and one full cast for Beyond the Horizon.
The Artistic Direction of Camerata Bardi Vocal Academy and Teatro Grattacielo reserves the right to decide first and second cast assignments.
Available Roles for Young Artists
ELISIR D'AMORE
Adina, soprano
Nemorino, tenor
Belcore, baritone or bass-baritone
Dulcamara, baritone or bass-baritone
Gianetta, soprano

BEYOND THE HORIZON
Andrew Mayo, baritone
Robert Mayo, tenor
Ruth Atkins, soprano full lyric/spinto
Captain Dick Scott, baritone
Admissions
The Program is open to young, upcoming opera singers who are interested in deepening their knowledge of the specific opera roles offered in our 2024-25 Season, and who are ready to perform these roles on stage. Our mission is to pay particular attention to each and every participant and to ensure that by the end of this program, not only have they had an important debut, but are also ready to be a part of the professional, fast-paced world of opera.


Tuitions
ELISIR D'AMORE
Adina, Nemorino, Belcore & Dulcamara | $3,100
Gianetta*| $2,600 *
*Gianetta will be also covering Adina.
BEYOND THE HORIZON
Andrew, Robert & Ruth | $3,100
Captain | $2,600
Our tuition includes:
>All one-on-one voice lessons and coachings.
>Targeted role mentoring program
>All Industry Development Seminars which will focus on valuable career insights such as Self-Marketing, selecting the right social media practices, networking , self-filming, branding, and overall professional presentation.
>Italian and French Diction coachings
>Branding workshops
>Accommodations in double occupancy (Hotel or Airbnb, TBD)

TUITION DOES NOT INCLUDE AIRFARES.
>Registration Fee| There is no registration fee.
>Payment schedule | Tuition payments are divided in two equal parts. The first payment the first day of your admission and the second payment at the first day of the program.
>Refund policies and disclaimers | Camerata Bardi International Academy commits to contracts to secure faculty, production stage director, creative crew and housing for our participants. Therefore, once paid, tuition and fees are non-refundable. There are no exceptions to this policy. Performances have already been booked with our partner-companies and plans are being laid out for fully staged performances.
>Contracts | This is a small boutique program. All our participants will be offered performances and contracts.
> Force Majeure | Camerata Bardi International Academy shall have no liability whatsoever to the Artist if the Performance cannot go forward because of circumstances beyond the Producer's reasonable control including, without limitation, acts of God, pandemic, terrorist acts, shortage of supply, breakdowns or malfunctions, blackouts, labor difficulties, war or civil unrest. However, Camerata Bardi International Academy will reschedule such performances.

READY TO APPLY? FILL OUT THIS FORM FOR CONSIDERATION

REQUIREMENTS FOR YOUR YOUTUBE VIDEO:
>Video must not be older than 1 year
>We do not accept Dropbox submissions
The Artistic Direction reserves the right to invite candidates to a Live or via Zoom audition.
THERE IS NO APPLICATION FEE
Accomplishments
In 2021, Camerata Bardi started with a co-production of W.A.MOZART Idomeneo with the Cultural and Conference Center in Crete (GR). What started as 2 full performances of the opera developed into 7 performances of Idomeneo Alla Breve, a 60-minute version of the opera, 3 full performances of the opera in November 2021, 2 performances of Idomeneo in 60 minutes at the Rhodes International Festival in Rhodes (GR) and a Concert Gala dedicated to Maria Callas at the Rhodes International Festival.

Our second project, Mascagni's L'Amico Fritz saw one performance at the Phoenicia International Festival of the Voice on August 27, conducted by Felipe Tristan and directed by Malena Dayen and Stefanos Koroneos. From that, our young artists participated in secondary roles and covered principal roles in Teatro Grattacielo's main L'Amico production on November 14th, 2020 at the Ellen Stewart Theatre (known as La MaMa) in NYC, conducted by James Bagwell and directed by Malena Dayen and Stefanos Koroneos and sang at Teatro Grattacielo's 2021 Anual Gala featuring soprano Karen Slack.

Through the advocacy and dedication of our Artistic Direction and staff, we have secured the opportunity to sing for major casting directors and agents around the globe for several of our Young Artists. We are happy to report that some of our Young Artists have signed with agents or have received contracts for future productions in several European Theaters and with Teatro Grattacielo in New York City.
Recent Productions
1. Carmen
May 11th, 12th, 13th & 14th, 2023
​IN CO-PRODUCTION WITH
Teatro Grattacielo
Cultural & Conference Center of Heraklion
​CREATIVE TEAM
MYRON MICHAILIDIS | Conductor
STEFANOS KORONEOS | Concept and Director
ELDA KLADAKI | Set Designer
ANGELA HUFF | Costume Designer
DIMITRIS KOUTAS | Lighting Designer

2. Don Giovanni
Friday, June 16th & Saturday, June 17th, 2023
The Riverside Theater, New York City
in co-production with Teatro Grattacielo
CREATIVE TEAM
JASON TRAMM | Conductor
STEFANOS KORONEOS | Director
TASOS PROTOPSALTOU | Set designer
TASOS PROTOPSALTOU AND SARA BETH PEARSON | Costume designers
MATTHEW DEINHART | Lighting designer
BETH GLEISON & TIGER LILY MORENO | Makeup Artists
TROY OGILVIE | Choreographer
3.The 10 Faces of Maria Callas - New York City
Maria Callas: the 100th birth Anniversary | THE 10 FACES OF MARIA CALLAS
The Consulate General of Greece
CAST
VICTORIA DAVIS, soprano
STEPHANIE RIVERO, soprano
SEONGEUN LUNA PARK, soprano
SASHA GUTIERREZ, soprano
EUN BYOUL SONG, soprano
LIZ KLEIN, actress
ALLA MILCHTEIN, pianist

4. Don Giovanni
April 29th and 30th, 2022
APOLLON THEATER SYROS
A new production of Camerata Bardi International Academy | Teatro Grattacielo | Sinfonietta Hellenica

CONDUCTOR: Georgios Galanis
DIRECTOR: Stefanos Koroneos
SET AND COSTUMS DISEGNER: Tasos Protopsaltou
LIGHTING DESIGNER: Emorphili Tsimplidou

LYRIC LABORATORY | ONLINE/IN PERSON: MARRCH 1ST -30TH, 2022
REHEARSAL PERIOD IN ATHENS, GREECE: APRIL 19-27TH, 2022
5. Don Giovanni
August 5th, 2022
Phoenicia International Festival of the Voice
CONDUCTOR: David Bloom
DIRECTOR: Stefanos Koroneos
SET AND COSTUMES DESIGNER: Tasos Protopsaltou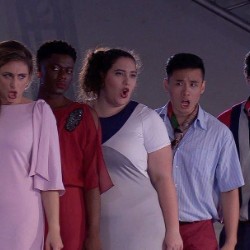 6. Don Giovanni
September 7th and 8th, 2022
CONDUCTOR: Alkis Baltas
DIRECTOR: Stefanos Koroneos
SET AND COSTUME DESIGNER: Tasos Protopsaltou
LIGHTING DESIGNER: Emorfili Tsimplidou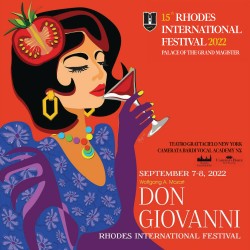 7. R. Zandonai | Giulietta e Romeo
June 4th and 5th, 2022
Teatro Grattacielo at Battery Park City
Festival of New York
CONDUCTOR: Christian Capocaccia, Artistic Director Syracuse Opera
DIRECTOR: Stefanos Koroneos
SET AND CONSTUME DESIGNER: Tasos Protopsaltou
LIGHTING DESIGNER: Lance Lewis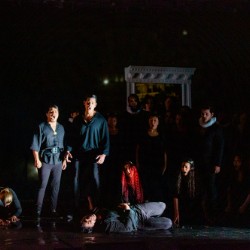 Previous Seasons and Program History
More information about the season and past shows is available on our Season page!
Listen to Previous Young Artists
TEATRO GRATTACIELO 2021 ANNUAL GALA

Artists:
Karen Slack, soprano Featured Guest Artist
Clara Lisle*, soprano
Clara Luz Iranzo*, soprano
Kinneret Ely*, soprano
Kiena Williams*, soprano
Eugenia Forteza*, mezzo soprano
Diego Valdez*, tenor
Pedro Sequera*, tenor
Donghyuk Chung*, tenor
Hyunsoon Kim*, baritone
Israel Gursky, piano

Program:
Spyros Samaras, Mademoiselle de Belle | "Dieu faites" | CLARA LISLE
Pietro Mascagni, Iris | "Apri la tua finestra" | DIEGO VALDEZ
Mario Castelnuovo Tedesco | "La Eremita di San Simon" | CLARA LUZ IRANZO
Ildebrando Pizzetti | "Quel Rosignuol che si soave piagne" | PEDRO SEQUERA
Ildebrando Pizzetti | "Il mio pensier in parte ov'era" | KINNERET ELY
Pietro Mascagni, Lodoletta | "Flammen pieta" | KAREN SLACK
Ruggero Leoncavallo, Zaza | "Zaza piccola zingara" | HYUNSOON KIM
Franco Alfano, Risurrezione | "Dio pietoso" | SARAH ROSE JOHNSON
Pietro Mascagni, L'Amico Fritz | "Oh pallida" | EUGENIA FORTEZA
Riccardo Zandonai, Francesca da Rimini | "Paolo, datemi pace" | KIENA WILLIAMS Riccardo Zandonai, Giulietta e Romeo | "Giulietta son io" | DONGHYUK CHUNG
Umberto Giordano, Andrea Chenier | "La mamma morta" | KAREN SLACK

Camerata Bardi Vocal Academy 2020 production | George Frideric Handel, Messiah |Filmed entirely during pandemic-related lockdown
TESTIMONIALS
Working hand in hand with Teatro Grattacielo has definitely marked a before and after in my performance practice and life; It has been that bridge between being a student and being a professional. I have been given multiple opportunities to grow in a safe, nurturing environment and I'm very fortunate to have mentors in the company that push and challenge me to become the artist they know I have the potential to be.
CLARA LUZ IRANZO, SOPRANO
It has been definitely one of the most memorable experiences of my life! I had the opportunity to meet, work with, and learn from beautiful people and of course I had the absolute pleasure to present Arbace on stage. I keep these great memories in my heart.
MARIOS MANIATOPOULOS, TENOR
While the world shut down due the pandemic, Camerata Bardi Vocal Academy found a way to keep its masterclasses, programming, rehearsals and mentorship alive. The program provided me with structure that kept me focused on my vocal development, gave me access to experts in the opera field and culminated in a professional level performance in Crete that was fully-staged with orchestra under the baton of an influential and world-renowned conductor. The experience served as an incredible spring board for next steps in my career and I am truly grateful to have been a part of the program.
KIRSTEN SCOTT, MEZZO SOPRANO
I had such an amazing experience on Idomeneo that it was hard to think what else is going to live up to that. Seeing people come out from all over, sing beautifully, most importantly sharing their art with the rest was amazing. Stefanos Koroneos is one of a kind.
EVA MARCO, SOPRANO
My time with Camerata Bardi Vocal Academy exceeded all my expectations - from the quality of the classes to the quality of our final show which was a fully professional production despite the price of this programme being one of the lowests I have come across. Everyone has been supportive but also honest and realistic with their advice to me which I appreciate a lot.
KRISTEL KNUDSEN, SOPRANO
Being a young artist at Camerata Bardi Vocal Academy and Teatro Grattacielo has been a real honor, because Mr. Stefanos Koroneos and his team always work at their very best to provide amazing opportunities to their singers. Being a part of their professional production of Idomeneo will definitely be one of the most unforgettable experiences in my career.
ZARA WING-KWAN CHUNG, SOPRANO
"Thanks to my time under the continued mentorship of the professional singers, conductors and artistic director of the Camerata Bardi Vocal Academy, I am a stronger, more polished and confident singing actress. I deeply appreciate the respectful, [Covid] safe and supportive atmosphere in which all the classes and rehearsals are conducted. Our live performances proceeded successfully and safely and I was able to learn a lot (including a gorgeous role) in a very short time. I call that a huge success!!!"
STEPHANIE LORENZ, SOPRANO
This program gave a lot of things to me, but I can tell you which one is best because I had good experience on stage from this program. We can't buy this experience, being on stage. I think it can't be bought with money and if singers need experience, Camerata Bardi Vocal Academy will give it you!
HYUNSOON KIM, BARITONE